EASY LANDSCAPING DIY PROJECTS
Ever get the itch to do a DIY project? It's springtime and many people are sprucing up their yards or homes.
Whenever we do, our favorites involve getting outdoors and mixing up our landscaping features.
Whether it's as simple as installing some lighting or a little more time-consuming like re-plotting plants, a fresh look for the lawn always gives your home a fresh look as well. Here are our top five easy landscaping projects!
Create a pathway.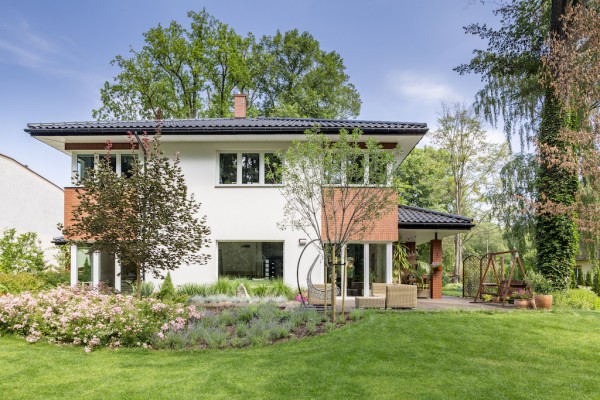 To guide you and visitors throughout your yard and link different areas together, install a pathway. You can use materials from a variety of materials, including reclaimed pallet wood, flagstones, gravel, and more to add texture and color.
Add a wall or border.
Installing a flagstone, rock, or brick wall around flower beds or trees adds a sleek, clean look to your landscaping and helps separate different sections of your yard.
Install a water feature.
Nothing says zen quite like the sound of trickling water as you relax in your backyard. You can start simple with by purchasing and installing a small feature powered by a solar panel or create a larger focal point in your yard by installing a waterfall wall or small pond.
Light your way.
An easy way to transform your yard is to strategically use lighting. Place cool-colored lights high in trees to recreate a moonlight feel, use pathway lights to naturally guide the eye, or highlight objects or plants.
Plant upwards.
Expand your yard space by drawing the eye to the sky with a trellis fence or screen made of wood or metal. Once you install your trellis, select your climbing plants and vines and get to planting!
Also did you know if you do these tips, it can bring additional value to your home. Just ask… I would be happy to give you an evaluation on what your home is worth. If you  are thinking of moving this spring, check out my website at www.sandiegohomesbynancy.com
Nancy Bergman | DRE Lic #01893550 | Windermere Homes and Estates 
Have you found the perfect pumpkin in San Diego?
ABC Tree Farms Pick of the Patch Pumpkins   Sept. 29-Oct. 31
4000 Plaza Drive, Oceanside
Sunday-Thursday 10AM-9PM, Friday-Saturday 10AM-10PM
408.393.6303 | www.abctreefarms.net
Bates Nut Farm    Sept. 22-Oct. 31
15954 Woods Valley Road, Valley Center
Monday-Friday 9AM-5:30PM, Saturday-Sunday 8:30AM-6PM
Oct. 12th & 19th 3-8PM
760.749.3333 | www.batesnutfarm.biz
Boomont & Fall Fest    Oct. 1-Nov. 30
Belmont Park: 3146 Mission Boulevard, San Diego
Friday-Sunday, Oct. 31st & Nov. 12th 5-10PM
858.228.9283 | www.belmontpark.com
Carlsbad Pumpkin Patch   Sept. 28-Oct. 31
Cannon Road and Interstate 5
Friday-Sunday 9AM-7PM
760.603.9608 | www.carlsbadstrawberrycompany.com
Harbour Farm & Vineyard   Oct. 6-31
3326 Highway 67, Ramona
Pumpkin Patch & Festival: Saturday & Sunday 10AM-6:30PM
Pumpkin Patch Only: Monday-Friday 10AM-6:30PM
619.261.9697 | www.harbourfarm.com
Julian Mining Company    Sept. 22-Oct. 31
4444 Hwy. 78, Wynola, Julian
Saturday 10AM-5PM, Sunday 12-5PM
951.313.0166 | www.julianminingcompany.com
Lavender Hill Pumpkins    Sept. 28-Oct. 31
1509 East Mission Road, Fallbrook
Friday 2-5PM, Saturday-Sunday 10AM-5PM, Oct. 29-31 2-5PM
760.715.8495 | www.lavenderhillpumpkins.com
Mr. Jack O Lanterns Pumpkins  Oct. 5-31
6710 La Jolla Blvd., San Diego
Monday-Thursday 11AM-8PM, Friday-Saturday 11AM-9PM
844.452.2567 | www.mrjackolanternspumpkins.com
Mtn. Valley Ranch Pumpkin Patch Sept. 22-Oct. 31
842 Hwy 78, Ramona, Daily 9AM-6PM
760.788.8703 | www.mountainvalleyranch.com
Omas Pumpkin Patch    Sept. 25-Oct. 31
14950 El Monte Road, Lakeside
Tuesday-Saturday 10AM-7PM
619.390.2929 | www.omaspumpkinpatch.com
PB Pumpkin Patch   Oct. 1-31
870 Garnet Ave., San Diego
Monday-Friday 10AM-10PM, Saturday & Sunday 8AM-10PM
858.483.0329 | www.pbpumpkinpatch.com
Pumpkin Express    Oct. 6-28
The Pacific Southwest Railway Museum: 750 Depot Street, Campo
Saturday-Sunday: Departures at 11AM, 1:15PM & 3PM
619.478.9937 | www.psrm.org/pumpkin
Summers Past Farms    Oct. 3-28
15602 Olde Hwy. 80, Flinn Springs
Wednesday-Saturday 9AM-5PM, Sunday 10AM-5PM
619.390.1523 | www.summerspastfarms.com
The Farm Stand West    Oct. 1-31
Farm Stand West: 2115 Miller Avenue, Escondido
Frans Original Farm Stand: 1980 Summit Drive, Escondido
Daily 10AM-6PM
760.738.9014 | www.thefarmstandwest.com
The Great Annual Pumpkin Festival   Oct. 1-31
5178 Japatul Spur, Alpine
Tuesday-Sunday 10AM-5PM Reservations Required
619.320.4942 | www.childrensnatureretreat.org
Pumpkin Station Locations
858.566.7466 | www.pumpkinstation.com
Bonita Pumpkin Farm    Oct. 1-31
5354 Sweetwater Road, Bonita
Oct. 1-11 9AM-6PM, Oct. 12-31 9AM-8PM
Del Mar Station    Sept. 28-Oct. 31
15555 Jimmy Durante Boulevard, Del Mar
Sunday-Thursday 9AM-7PM, Friday & Saturday 9AM-9PM
El Cajon Station    Sept. 28-Oct. 31
415 Parkway Plaza, El Cajon
Monday-Thursday 1-9PM, Friday-Sunday 9AM-9PM
Mission Valley Station    Sept. 28-Oct. 31
1640 1/2 Camino Del Rio North, San Diego
Monday-Thursday 11AM-9PM, Friday-Sunday 9AM-9PM
National City Station    Sept. 28-Oct. 31
3030 Plaza Bonita Road, National City
Monday-Thursday 1-9PM, Friday-Sunday 9AM-9PM
Ranch Bernardo Farm    Oct. 1-31
13421 Highland Valley Road, Escondido
Monday-Thursday 9AM-5PM, Friday-Sunday 9AM-6PM
Enjoy the season.
Happy Halloween
Nancy Bergman
Windermere Homes and Estate
DRE Lic #01893550
nbergman1@live.com / 858-617-9449
JUST LISTED
11678 Corte Morita, San Diego, CA 92128
Presented By:
Showing Agent:
Nancy Bergman
Windermere Homes and Estates
858-617-9449
Licensed In: CA
License #: DRE Lic. #01893550
$ Click for current price
4 BEDROOMS | 3 (2 full, 1 half ) BATHROOMS | 2529 SQUARE FEET
Welcome to your Zen! Relax in this amazing home on a cul-de-sac in Bernardo Heights. This home boast 4 large bedrooms all upstairs, plus a permitted den/office/ bonus room downstairs, remodeled extended kitchen with lots of extra storage space. Hardwood floors & tile throughout. Tons of natural light. Indoor laundry room w/additional storage. Large backyard for entertaining. Close to Bernardo Heights Community Center that features pools, tennis courts, & more. Easy access to schools, freeway and shopping.
Nancy Bergman DRE Lic. #01893550 Windermere Homes and Estates – Rancho Bernardo www.sandiegohomesbynancy.com
Posted on July 19, 2018 at 12:51 am
Nancy Bergman
Category:
Uncategorized
Tagged

11678 corte morita, 92128 homes for sale, bernardo heights homes for sale, homes for sale near rancho bernardo high school, just listed 92128, just listed rancho bernardo, Nancy Bergman Rancho Bernardo Realtor, Nancy Bergman Rancho Penasquitos Realtor, Nancy Bergman Real Estate, Nancy Bergman Realtor, Rancho Bernardo homes for sale, Windermere Homes and Estates, Windermere Homes and Estates Rancho Bernardo